Saturday, August 12, 2017 - 3:00 p.m.
Parade Theme: "It's A Great Day"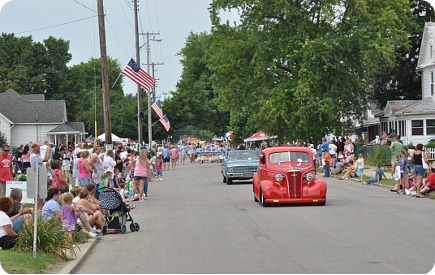 *Entries in a float division or in the decorated vehicle division must be received by the parade committee no later than Wednesday, August 9, 2017 at midnight to qualify for Saturday's judging.
Divisions:
Floats (3 Divisions)*
Decorated Vehicles*
Novelty Units
Horse Unit or Riders
Custom Cars
Antique Entries

Judging:
1:30 p.m. - Floats
2:00 p.m. - Decorated Vehicles


The annual Jane Award will be presented to the entry chosen as Best of Parade.
Parade Line-Up:
All entries should be in the field and positioned by 2:30 p.m.
Marching and walking units will assemble at the Mooreland Historical Society (formerly the Town Hall) on North Broad Street.
All other entries will assemble in the parade field located at Ryan Luellen's woods on Wilbur Wright Road north of U.S. 36.

Results:
Parade results will be announced in the Entertainment Pavilion immediately following the crowning of the Fair Queen and Princess. They will then be posted on the fair bulletin board.